8-Day Introduction To Edward de Bono's Six Thinking Hats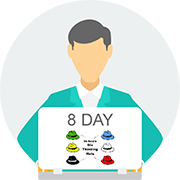 Mindwerx International founder Bill Jarrard has been using Edward de Bono's SIx Thinking Hats® since first meeting Dr de Bono in 1986.  Bill has used the Six Thinking Hats in many hundreds of situations from personal thinking and decsion making to facilitating with groups as large as 500, and in almost every conceivable industry.
His experience in applying the Six Thinking Hats comes through in the training he does, and in every team facilitation he leads.  In this Free 8-day eCourse he will share with you some very simple hints and tips on how you might use the Six Thinking Hats yourself.
Once you register you will receive a series of 8 daily emails from Mindwerx International, each with a short tip on using the Hats.  Each email will take only a few minutes to absorb but over the 8 days you will find your appreciation of this valuable technique rising.  We hope you enjoy the experience.  And if you're interested training for yourself or your organisation we run a number of de Bono workshops.