Description
Deliberate Creativity & Innovation Pocket Card Plus Six Thinking Hats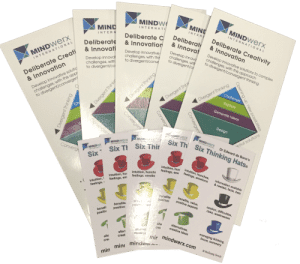 The Deliberate Creativity And Innovation Pocket Plus Six Thinking Hats (8-page pocket size reference card) gives you full instructions on the practical application of the Mindwerx divergent – convergent Deliberate Creativity & Innovation process.
Also includes guidance on using Edward de Bono's Six Thinking Hats for Creative Problem Solving, as well as tips on Facilitating highly effective meeting.
In addition get a business card size Six thinking Hats reference card.  The perfect pair of reference cards to make your next meeting more successful.
This is everything you need to make your critical thinking products and meetings more effective, particularly after you participate in Mindwerx Deliberate Creativity & Innovation Online eModules.
Buy this 5-Pack of paired pocket cards now.