Millionaire Mind Skills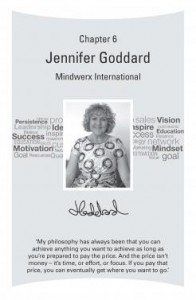 Welcome to the Millionaire Mind Skills page on Mindwerx.com.  This page is dedicated to the concepts, ideas and information contained in the new book Business Millionaire, which features a chapter by Mindwerx co-founder Jennifer Goddard.
Business Millionaire – How to turn your idea into a Million Dollar Business pre-sold 15,000 copies which makes it an instant Best Seller, and it is jam-packed with the kind of information you want to develop a Millionaire Mindset.  
This is a must have book for anyone interested in learning the secrets of some of the most successful people in the world.  Business Millionaire is now available on our secure eStore with a special offer.  
Buy Business Millionaire and one or more of the other Millionaire books and we'll give you a 20% discount all the Millionaire books you purchase.  
Just go to the store and use coupon code Millionaire_20 as you go through the purchase process.

Business Millionaire – Developing a Millionaire Mindset
Business Millionaire features a group of very special authors, who will show you how to develop a Millionaire Mindset, contributing authors are.
Chapter 1       Rob Thompson, All In A Day's Work

Chapter 2       Ari Galper, Unlock The Game®

Chapter 3       Linh Hoang Podetti, Outsourcing Angel

Chapter 4       Andrew Roberts, Why your Planning Probably Sucks

Chapter 5       Dale Beaumont, Business Blueprint

Chapter 6 Jennifer Goddard, Mindwerx International

Chapter 7       Steven Dixon, Never Give Up

Chapter 8       Clare Cope, Values Pendulum®

Chapter 9       Brijesh Purohit, Keen to Clean Group

Chapter 10     Rod Matthews, Change Starts Here

Chapter 11     Evelyn Lundström, First Impressions

Chapter 12     Pat Mesiti, Creating a Million $ Business From The Inside Out

Chapter 13     Andrew Gideon, Ties 'n' Cuffs

Chapter 14     Jenny Mao, Diamond Lady

Chapter 15     Steve Brossman, Stand out from the Crowd

Chapter 16     Daryl Grant, Our Internet Secrets™
What Are The Core Mind Skills Of Millionaires
Along with having the right mindset, the key mind skills used by really successful people fall into 3 distinct but related areas.
First, they know how to Manage Information Overload so they can get more done.  Everyone has the same amount of time each day. Most millionaires get a lot more out of their day.
Second, they understand the reality of intelligence. They know there are multiple ways of being smart, and they know how to tap into their own unique genius and that of others.
And third, people who lead in their field have developed the skill of what we call critical and creative thinking, something my partner Bill Jarrard and I have been concentrating on at Mindwerx for more than 15 years now.