de Bono Power of Perception – DATT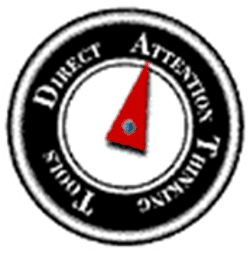 Turn employees at all levels into dynamic and creative problem solvers
In business today, we need tools that help us to solve problems and make decisions – quickly. Such decisions can only be made with accurate perceptions – yet the vast majority of thinking errors occur in perceptions, which often vary across a team or organisation.
Why are thinking skills important?
Our fast paced, modern lives are full of action. But action can easily be confused with accomplishment resulting in employees jumping into action before thinking about what needs to be done. Action, if properly directed, is good, but if not directed can result in costly errors.
Based on a fundamental understanding of how the brain handles information, DATT® is a ten tool thinking skills program designed to help people think creatively, make decisions and solve problems faster. The aim is increased productivity and improved decision making in your organisation. By using DATT®, anyone can become more innovative, take on new responsibilities and achieve real results.
This is a fast paced interactive 1 or 2-day in-house workshop in which participants will:
Look ahead and see the consequences of an action, plan, decision or rule.

Ensure that all sides of a matter have been considered before a decision is made.

Break a larger concept or situation into smaller, more manageable parts.

Explore all the factors related to an action, decision, plan or judgement.

Focus directly and deliberately on the intention behind actions.

Give yourself the benefit of alternatives.

Gain the power of broad vision by exploring other people's viewpoints.

Make sure actions match or fit their values.

Guide actions, choices and decision.

Direct their attention to the outcome of their thinking and actions that need to follow.
Bill Jarrard of Mindwerx International, who has been using these tools for 30 years, and facilitates a program focused on the application of de Bono critical and creative thinking methods. Mindwerx also has access to instructors accredited by Dr Edward de Bono to present the official de Bono Six Thinking Hats program.
"[DATT®] helped me increase proficiency in systematic thinking that will give me better thinking ability and a common language to use with other folks from my organization." … Michael Bosscher, Steelcase®
Book or Organise this for your team 
For more information on how we can tailor this progam for your team please email us at: team@mindwerx.com
Also check-out the de Bono Lateral Thinking and Six Thinking Hats courses we offer