Parallel Thinking with de Bono Six Thinking Hats ®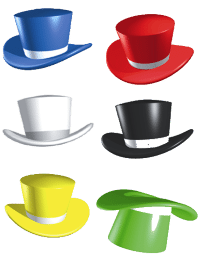 Parallel Thinking with Edward de Bono's Six Thinking Hats® is an easy and powerful framework that changes the way people think. Based scientificially on how the mind works Six Thinking Hats promote the kind of innovative thinking and creative problem-solving that is vital to success in today's changing world.
Developed by Dr Edward de Bono the method is easy to learn and use – yet the Six Thinking Hats tool has a real and powerful effect on thinking.
foster collaborative thinking and interaction by keeping egos and 'turf protection' in check

reduce the adversarial approach in all interactions

use several different way of thinking so that people don't get trapped by negative or critical approaches

develop a framework for thinking that provides a more open, creative climate for discussion

make time for creative thinking to develop alternative and innovative solutions

run more effective and productive meetings
Leading organisations around the world are now reaping the benefits generated by the Six Thinking Hats. Parallel Thinking with Six Thinking Hats allows people to:
be fully involved in problem solving, improvement activities and innovative thinking

have shorter more effective outcome oriented meetings

creatively solve problems and make better decisions – faster

analyse and manage situations more thoroughly and effectively

generate more innovative ideas to enhance organisational performance
This is a fast paced interactive 1-day blended in-house workshop, in which participants will:
Discuss the need to change 2500 year old thinking

Discover the Power of Parallel Thinking to unbundled and focus thinking

Explore the Six Thinking Hats framework with team effectiveness

Learn to construct Deliberate Creative Thinking sessions using Six Thiniking Hats

Practice the Six Thinking Hats in a range of remote and realistic scenarios

Develop an ongoing learning plan to ensure ongoing skills development
Bill Jarrard of Mindwerx International, who has been using these tools for 30 years, and facilitates a program focused on the application of de Bono critical and creative thinking methods. Mindwerx also has access to instructors accredited by Dr Edward de Bono to present the official de Bono Six Thinking Hats program.
Also check-out the de Bono Lateral Thinking and Power of Perception courses we offer
I felt it was great, I have learnt a tool that I can not only use in my work place, but also in my own personal life.