Deliberate Creativity & Innovation – Online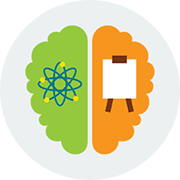 This fully online program developed by Mindwerx International can be run for your organisation, school or university as a series of modules 'rolled out' over time for a  specific group, or can made available all at once to allow you to move through lessons at a pace and order to your own liking.
Mindwerx can also add specialized modules, specifically relevant to your organisation.  For information on this contact Bill Jarrard at bill@mindwerx.com.
Initially designed as a online university course, this masterclass program currently consists of 12 eLesson modules, plus the course overview module DCI-00 which you can view free now.  You can also access module DCI-01 free to see how the course works.
Throughout the program participants are given exercises to try, and they can submit these for constructive comment by the facilitators and peers, thereby creating a real interactive learning engagement.
If you want to get started on your own right away, you can get access to the entire program for self study and buy the program now for only $198 AUD.  Check the limited time offer now.
Modules In This Online Program
DCI-00 Program Overview

DCI-01 Course Intro

DCI-02 Deliberate Creative Thinking

DCI-03 Opportunity & Focus

DCI-04 Imagineering

DCI-05 Mind Mapping

DCI-06 Organisational Innovation

DCI-07 The Power of Parallel Thinking

DCI-08 Six Thinking Hats

DCI-09 Ideation One

DCI-10 Ideation Two

DCI-11 Harvesting, Design & Implementation

DCI-12 Innovative Organisations
Facilitated and Self Paced Programs
We can provide this program in both an unfacilitated or facilitated format.  As a facilitated program you can give your people the very best in online learning by having this program fully facilitated and tailored to your people by Mindwerx master trainers, or as a self-study they can access in their own time.
For information on this contact Bill Jarrard at bill@mindwerx.com
Bill has delivered high quality innovation training and workshops in CiSRA since 2009. Bill's programs are well designed and engaging, and the engineers and researchers who have participated have provided positive feedback. As well as this Bill and the Mindwerx team are very easy and straight forward to deal with. It's easy to do business with them.