Leading FOR Innovation with Design Thinking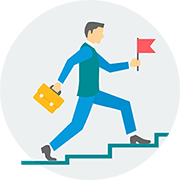 Innovation is the result of a successful integration of focus, invention, intra/entrepreneurship, engaged people, leadership, and other intangible ingredients, all underpinned by creativity.
What is often called Design Thinking, or Applied Creativity & Innovation.  While some organisations flourish by being innovative, many flounder in their attempts, or fail to sustain it.
Principles underpinning innovation, such as those embodied in design thinking, are simple to understand, but applying them is not easy.  Every organisation is different in some way, and every leader has a unique style that must match the needs of the organisation's innovation efforts.
The key to success is the practice of design thinking and effective Leadership FOR Innovation.
This program is not another workshop about Innovation, but instead takes a deep look at Leading FOR Innovation.  The aim is to take the mystery out of innovation, and introduces design thinking concepts, methods and strategies to make innovation happen.
In this interactive and engaging workshop participants will…
Explore the connection between focus, invention and intra/entrepreneurship, and how they combine to realize innovation when creative thinking is applied throughout

Gain insights into why innovation and change is resisted, and look at how that resistance and hesitation might be overcome with strategic thinking and imagineering

Learn the skills needed to lead the drive for innovation using the Applied Creativity & Innovation process and thinking tools, as it applies in their organisation
NOTE: We also offer Executive and Board Briefings on Innovation – see further down
We tailor this program to your needs and situation, but in a typical Leading FOR Innovation workshop we would explore and discuss the following…
Why Innovation is Simple, but not Easy!
The Nature of Innovation – defining and recognizing innovation

Types of Innovation – where and when to innovate, areas of opportunity

A model for making Innovation happen, and why it isn't easy…
What's the Motivation for Creativity & Innovation
Problem centred or mission directed innovation – what's your motivation to innovate?

Imagineering the innovative organisation – leading with vision
Design Thinking – Ideas, Invention, Intra/Entrepreneurship & Innovation
Ideas are almost never solutions – it takes design thinking processes

Invention is vital, but it's just the start to successful design thinking

Intra/Entrepreneurship – the 90% ingredient to successful the design thinking process

Leaders must stop talking about innovation, and focus instead on leading for innovation
Creating Space for Design Thinking & Innovation
Creating a working environment to support day to day creativity

It takes more than bean bags, coloured pens and Feng Shui – a lot more!

Corporate transformation to create a culture that support design thinking and innovation
Workplace focus – Making Innovation Happen
Why is innovation important – to you? Where do you need to innovate?

Where to from here in leading innovation?
Getting support post workshop – keeping the design thinking process going
This leadership program is suitable for leaders at all levels in an organisation and is facilitated by Innovation Facilitator and Mindwerx Co-founder Bill Jarrard. To discuss how this program can help you make innovation happen contact Bill at bill@mindwerx.com.
Executive & Board Briefings on Creativity & Innovation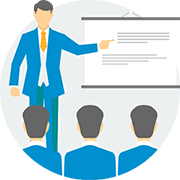 Innovation is led from the top, and happens at the front-line with design thinking.  Using that simple premise, Innovation Facilitator, Bill Jarrard provides short powerful briefings for Executive teams, CEOs, and Boards on continuous improvement, design thinking, and making innovation happen.
The aim is to put definition and context around these concepts in your organisation.  There is a lot of talk about design thinking and innovation, but Innovation Surveys continue to indicate leaders still do not have a solid understanding of what is required to make innovation happen.
With his almost 30 years as a senior executive, intrapreneur, business owner, university lecturer, design thinking and innovation facilitator Bill takes the mystery out of these vital strategies for success and shows why Innovation is Simple, but Not Easy!
To organise a briefing with Bill (we recommend 60-90 minutes but can adapt to your needs) contact him on bill@mindwerx.com.
Bill is also Mentor and Subject Matter Expert with international organisation CEO Mentoring Pte Ltd (Singapore) and provides confidential CEO and Executive mentoring for leaders looking for added insights into their vital role in ensuring the organisation's success with innovation.
For a confidential discussion contact Bill@Mindwerx.com or call him on +61 (0)419 645 299.