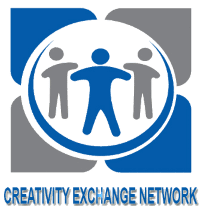 The Creativity Exchange Network or CEN (pronounced ken) is a forum for creative thinkers, change agents, and innovators who want to share ideas with like-minded people.
CEN was started by Mindwerx in Australia in 2001, after Bill and Jennifer attended a CEN-UK meeting in London in the Summer of 2000.  Between 2001 until 2008 we ran dozens of CEN meet-ups hosted by great friends and clients, mostly in Melbourne, and a few in Sydney.  You can see Jennifer's Mind Map of a CEN meet-up we had in early 2003 on our Mind Map Gallery.
Now that we are back in Melbourne, after several years away, we want to get CEN going again, and in the second half of 2016 we had three terrific events that explored the power of Imagineering in setting vision and thinking strategically, the amazing power of Memory and Memorability, and Thinking about Thinking.
The Creativity Exchange Network is a modern forum for people interested in or responsible for making creativity, critical or design thinking, organisational change, continuous improvement, and innovation happen to create a great future.  If that is you, then now is the time to get involved.
CEN will be of interest to people from all types of organisations interested in exchanging ideas, issues and recommendations primarily around improving business performance, creativity, and innovation.  We expect that, as with the original CEN, participants at events and members of the CEN RecoHub will include:
Innovation Leads, OD professionals, and change agents in all types and sizes of organisation
CEOs, senior executives, and HR Learning & Development leaders who are creating an environment where creative thinking and innovation flourish
Leaders and specialists from organisations such as new tech companies, offering unique and valuable insights, products or services that accelerate creativity and innovation
Anyone with advanced knowledge and experience in the broad areas of creativity, innovation, and intra/entrepreneurship who want to mingle with other like-minded people sharing and exchanging ideas on how to make innovation a successful business strategy.
As far a space for CEN meet-ups, to start we'll use the co-working space at Dimension5 in South Melbourne, where Mindwerx also has a desk.  We have lots of things planned to make CEN a truly valuable group to be part of, and while it is primarily a live event forum, we also plan to open CEN to virtual members in 2017.
To find out what CEN events we have coming up look Creativity Exchange Network or Mindwerx on Eventbrite, and we'll also start posting them below.
CEN will have three focus areas:–
Regular meet-ups and special event open to anyone interested in the varied topic areas we'll explore
The CEN LinkedIn Group where member from all over the world can have open discussion, look for and suggest ideas.  Join the LinkedIn Group.
The CEN RecoHub – an online platform for members to make recommendations (recos) on anything they find of value – software, websites, conferences, thinking tools, innovation apps, books, businesses, and more.  This will be a valuable vault of recommendation on how to be more innovative and successful.  Join the RecoHub now.  Developed for us by the great team at Recomazing.
So if you are a creative, with a passion for business innovation and sharing your ideas, email Bill direct at bill@mindwerx.com. And if you'd like to chat about hosting a CEN event or have a focus you'd value exploring at a CEN event definitely email Bill.
You can see the speakers we had at the last CEN event in 2016 on the Mindwerx YouTube Channel.  That event explored a range of 'thinking' approaches including: critical; creative; radiant; parallel; lateral; embodied; systems; corporate; and design thinking.
We are really looking forward to having a fantastic CEN community develop in 2017, and hope you will be part of it.
Join us for our 27 February meet-up. Insights from Israel's innovative start-up culture
Join us for our 29 March meet-up. Sparking Creativity & Boosting Performance
Bill and Jennifer