Serious Creativity with Edward de Bono Thinking Tools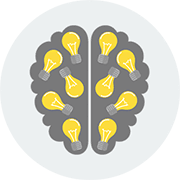 Henry Ford said "Thinking is the hardest work there is, which is why so few engage in it".  The problem is most people are asked to think, but aren't given the tools and training to do it well.  And in today's pressurized world the demand for fast, effective, focused, creative thinking has never been more important.
In his recent book, Edward de Bono, the leading authority on creative thinking as a serious skill, challenges us to Think, Before It's Too Late!  And his 'text book' for creative thinking Serious Creativity gives us all his insights and tools to make innovation happen.
This Serious Creativity workshop, facilitated by a Master Trainer who has used de Bono techniques for more than 25 years, shows you how to put these powerful thinking tools into use – in a wide variety of ways.
This is NOT a simple de Bono tools training course – this is an interactive facilitated workshop that gives you real skills you can use, today and every day to get things done, and make innovation happen on the frontline.
Based on lessons learnt from 25 years of actual use in hundreds of team projects and facilitations, you will learn from a master the practical and powerful ways to guide your thinking, and work collaboratively and creatively in teams.
Serious Creativity also runs in short form as a public course – check out all our public courses.
In this program participants will learn:
The brain is an associative self-patterning success system, not designed to be creative, but when trained, able to think in disciplined and creative ways

The vital ingredients for successful thinking without which it is impossible to be creative

The usefulness and power of Six Thinking Hats® de Bono's best known framework for critical thinking

The secret of Lateral Thinking and how to cut across the brain's neural pathways to generate original new ideas – on demand and where needed

How Direct Attention Thinking Tools add strength and depth to your thinking to speed problem solving and decision making

Where and how to integrate and apply thinking processes and tools for personal and business success
Benefits:
This workshop exposes participants to thinking tools they can use personally and in teams, where we see leading organisations reaping the benefits of critical thinking. This program allows people to:
be fully collaborative in team problem solving, improvement activities and innovative thinking

creatively solve problems and make better decisions – faster

analyse and manage situations more thoroughly and effectively

generate more innovative ideas to enhance performance
Where to after the workshop?
This Mindwerx Blended Learning Engagement includes a series of follow-up online eLessons to continue the learning journey well after the workshop.
Presenter:
Bill Jarrard, co-founder of Mindwerx International.  Bill has been using and training others in de Bono methods since 1986.
The whole course was of immense value. I have read Serious Creativity, however I realise the only way to learn these tools is to do perfect practice. After this course I have the knowledge and model to do that.
To Book or Organise this for your team
For more information on how we can tailor this progam for your team please email us at: or call Bill direct on +61 (0)419 645 299
Other de Bono programs to help you Think, Learn, and Innovate better.
Six Thinking Hats® – unleash the power of parallel thinking for team creativity
Lateral Thinking – creative new ideas on demand using Focus and Provovation
DATT – Direct Attention Thinking Tools that unleash the Power of Perception and take creative problem solving to a deeper level
Serious Creativity – the Book by Edward de Bono
Want to get started even before you do the workshop?  Get the book now.
Added Note:
Edward de Bono is the world's leading authority on creative thinking as a serious skill, and his techniques are used by organisations around the world.  From shifting 100 year old methods of mining in South Africa, to making the Olympic Games self-sufficient, to changing the way primary school children in Australia learn, de Bono's methods have been impacting every aspect of education and business for 40 years.
At the heart of these methods is the simple premise that creativity is not an innate attribute held by the few, but is a skill that can be taught, and in which everyone can improve.  De Bono tools are easy to learn and use – yet have a real and powerful effect on thinking.
I first met Dr de Bono in 1986 and have used his tools ever since. I've worked with him over the years with the de Bono Institute, and trained many hundreds of people in his principles and methods.  I'm looking forward to showing how you can use de Bono's serious creative thinking tools personally and in teams to get things done.
Bill Jarrard