Empowering Creativity in Teams
Leading and Facilitating Creative Ideation
Facilitate vb. to assist the progress of: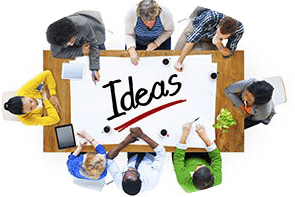 Facilitating creative collaboration is one of the most important management roles in leading a creative environment. In particular empowering a team with critical and creative thinking facilitates innovation effort that draws out new exciting ideas from the team.
Today's leader is a facilitator that draws on experience, Critical and Creative Thinking skills, and design processes and tools to promote team innovation.  This program examines and develops the creative ideation skills, methods and processes needed by leaders charged with empowering teams expected to generate new ideas, and by the end of the program participants will:
Understand the nature of critical and creative thinking and how they provide a powerful framework for seeking out innovation
Understand the role of the ideation facilitator – guiding the team to the edges well beyond brainstorming
Appreciate how the deliberate application of critical thinking leads to creativity on demand and inspires innovation at all levels
Have the skills to challenge the team to generate great new ideas
Understand how to lead a creative environment so useful ideas can be designed into valuable outcomes
Whether the facilitator is an external consultant, internal change agent or departmental manager, effective facilitation assists progress and helps people achieve their goals.  Effective facilitation results in:
Shorter, more creatively focused and outcome oriented team meetings
Better faster generation of exciting new ideas
Moving the team to the edges of their normal thought processes to open up new pathways to potential better more creative outcomes
This is highly interactive program is specially designed to support anyone wanting to improve creative collaboration and is available as a 1-day In-house blended program and as a half-day public program.  Topics include:
Critical and Creative Thinking

Principles and methods for focused idea generation

The role of the creative leader / facilitator

Working with the team to set and maintain Focus
Guiding divergent-convergent thinking in projects and meetings
Encouraging cross-fertilization of thinking and idea

External: convergences that fan innovation
Internal: discussion forums and idea promotion

Enhancing team creativity with the 'elbow-room' to explore

Providing creative space – your own idea factory
Play time – unleashing creative energy
Reading time – everything connects to everything else

Beyond Brainstorming to push the boundaries to new useful ideas

Thinking outside the square – generate great new ideas with lateral thinking
Idea Harvesting – managing lots of ideas to promote design into outcomes

Leading a Creative Environment – maintaining team innovation day to day

Budgeting for creativity (time and money)
Leadership styles that foster creativity and allow innovation to flourish
Goals setting to inspire people – setting the context and challenges

Resources for a creative environment

Materials to guide and support, reference cards, posters and more

Technology to enhance creative ideation

Hardware, software, access to prior designs
Collaboration technology that speeds and enhances creative thinking

How to not stifle creativity and innovation

Myths of creative thinking
10 Ways to Kill Innovation (or what not to do)
Managing IP, trade secrets, open source software
Adapting policies, deadlines, unrealistic expectations

Where to from here – continued skill development and team empowerment
Bill Jarrard and/or Jennifer Goddard, Co-founders Mindwerx International.  Bill and Jennifer both hold Master of Entrepreneurship & Innovation degrees and run this program globally.
Who should attend?
Ideally suited for team leaders who wish to learn to unleash their team's creative genius to solve problems, improve processes and generally work more innovatively.
A Mindwerx Blended Program
This Mindwerx Blended Learning Engagement extends the learning post-workshop as participants get access to several online Mindwerx Online Academy eLessons to build on their knowledge and skills. The aim is to continue the learning journey well after the workshop.
To Book or Organise this for your team
For more information on how we can tailor this program for your team please email us at: team@mindwerx.com or call Bill direct on +61 (0)419 645 299.