Description
The Reading Bug And How To help Your Children Catch It
The Reading Bug
by Paul Jennings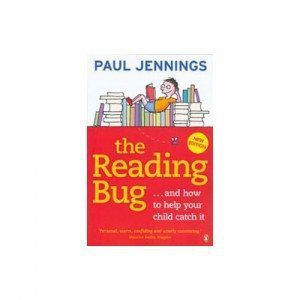 Revised Edition The Reading Bug And How To help Your Children Catch It, with a brand new chapter devoted to boys!  And an updated list of recommended reads.
Another quirky, funny book by Paul Jennings.  However, the twist in this tale is that is has been written for adults.  Paul has written a wonderful book aimed directly at parents wanting to help their children learn to read.
"If you are a parent you already have the major ingredient to infect a child with the reading bug – love. You love your kids and children love to be loved. Inject this into the reading situation and you will succeed."
Jennings covers a range of issues, such as the importance of choosing the right book for your child, the use of picture clues, phonics, how to respond when your child strikes a difficult word, the value of rhyming stories and learning stories off by heart.
There are recommended book lists for all ages and stages.  Jennings has included an insightful chapter on reluctant readers, a chapter devoted to boys' reading issues, and a strong message about the importance of "creating the whole language home, where there are books, magazines, papers, calendars, carts, pictures and stories everywhere, where children learn that reading is done for our own benefit and not someone else's".