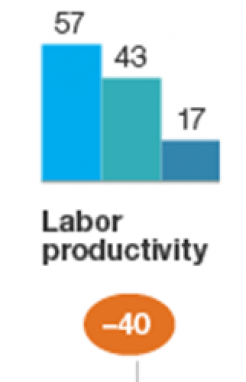 The McKinsey Global Institute (MGI) report Beyond the boom: Australia's productivity imperative finds that "one-off" factors—including favourable terms of trade and an investment surge—have driven half of the country's recent growth, obscuring the truth about its overall economic health.
The magnitude of Australia's resource boom belies some weakening fundamentals. Since 2005, the country has enjoyed 4.1 percent annual gains in income. But growth in labour productivity has fallen to just 0.3 percent. Capital productivity is now the biggest drag on income growth.
The report identifies four sectors—defined by their proximity to the resource boom and their exposure to trade competition—and pinpoints the major challenges for each of them. Successfully addressing these areas could raise national income by up to AU $90 billion (about US $95 billion) a year by 2017.
Resource sectors: Getting capital productivity right. 
Resource-rider sectors: Improving efficiency.
Local services: Implementing microeconomic reform.
Manufacturing: Creating a foundation for long-term competitiveness.
…from McKinsey Global Institute
Read more on this…
—————————————-
Productivity is a hot topic today, and as usual everyone is blaming everyone else, and looking for the BIG expensive answers – Industrial relations reform, Infrastructure investment, More Government involvement, Less Government involvement, Small business regulation, etc etc.
But at the end of the day, productivity is mostly about doing more with what we have, and that can be applied at every level of an organisation from the shop floor to the boardroom.  And it can be done fast.
I've just written an article – Creative Blitzing to Rapidly Increase Productivity that demonstrates just one of many ways productivity improvements can be made fast.
Have a look and let me have your feedback.  Thanks
Bill